XBox 360 Basic Kit with hardware and Arctic Silver 5 thermal compound
---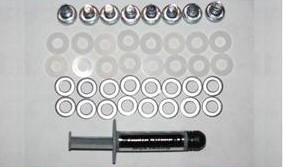 The above Xbox 360 x-clamp repair kit includes:
8 exact fit screws

16 exact fit nylon washers

16 exact fit steel/zinc plated washers

3.5g tube of Arctic Silver 5 Thermal Compound (enough for several applications)

Personally authored instruction guide (with pictures)! Instantly delivered via e-mail!
Domestic shipping only. No international shipping is available from our website.